Speakers


Kristin Fontichiaro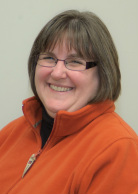 Fontichiaro is a clinical assistant professor and coordinator of the school library media program at the University of Michigan's School of Information.
In 2011, Fontichiaro released a 45,000-word free ebook entitled What's Now, What's Next, What's Yet to Come, in partnership with Buffy Hamilton (aka The Unquiet Librarian). The book features a crowdsourced collection of over 100 essays from around the world about trends in school libraries written by librarians, teachers, publishers, and library vendors. It received almost 1,000 downloads in the days following its release and more than 6,000 within the two months following its release.
Fontichiaro won the 2010 Margaret Grazier Award for Contribution to the Profession from the Michigan Association for Media in Education. Her passion is improving and maintaining the relevancy of the school librarian profession.
Visit Kristin's website to learn more and for great resources like this list of research projects which meet the Common Core State Standards.



Penny Kittle


Penny Kittle is an English teacher and literacy coach at Kennett High School in North Conway, New Hampshire. Her career in teaching began in a third grade classroom in Hesperia, California, and has taken her to Oregon, Washington, Ohio, Michigan, and now to New Hampshire. She has taught grades 3-graduate school. In the summer Penny teaches in Durham at the University of New Hampshire Literacy Institutes.
Penny believes in supporting new teachers and directed her district's K-12 teacher mentoring program for 12 years. This passion came from her work from 1992-1997 at Eastern Michigan University where Penny supervised student teachers from Detroit to Walled Lake and taught methods courses for the College of Education.
Penny is the author of Public Teaching: one kid at a time,The Greatest Catch: a life in teaching, Inside Writing: how to teach the details of craft (co-authored with her mentor and friend, Donald H. Graves),Write Beside Them: risk, voice, and clarity in high school writing, and Book Love: Developing Depth, Stamina, and Passion in Adolescent Readers. She was a columnist forVoices from the Middle, an NCTE publication, for six years. She is currently co-editing (with Tom Newkirk) a collection of Don Graves' work for a book to be published by Heinemann in May of 2013.
In 2008, Penny received the Literacy Leader award for the state of New Hampshire, given by the New England Reading Association. In 2009, Penny received the James N. Britton award from the National Council of Teachers of English for Write Beside Them.
Visit Penny's website to learn more.
Ben Grey
Ben Grey is the Chief Innovation Officer for Community Consolidated School District 59 in Arlington Heights, IL.
Ben started his career in education as a middle school and elementary school teacher. He taught middle school social studies and language arts for three years and fifth grade at the elementary level for five years. Ben then moved to administration where he was an instructional technology coordinator and Chief Information Officer prior to filling the District 59 Chief Innovation Officer role. Ben was also an adjunct professor for five years at Judson University where he taught the course "Integrating Technology in Literacy Instruction" for the master of education in literacy program.
Ben received the Illinois Computing Educators Technology Administrator Educator of the Year Award in 2012.He loves the work he gets to engage as he seeks innovative ways to afford students and staff greater opportunities to experience learning in the formal and informal spaces of education. You can read more about his work at http://www.bengrey.com